New Name!
A lot has happened since the last post on this regularly irregular blog so there's quite a few things to go over! First up, we have a new name: Time on Frog Island!
We updated the name to make it easier to search for the game and not get swamped by financial and sports news. It's a little bittersweet since we grew quite fond of the name Trading Time and are sad to see it go. Other potential contenders were: 'Beyond the Pond', 'Gaffed Mast', 'Barter Buddies', 'Hey Yo, What's That Item? Can You Get It For Me?' and many others! Did we make the right choice? Only (Trading) time (on Frog Island) will tell!
New Trailer!
Next up, we released another trailer showcasing even more of the island and the various frog folk you'll encounter set to our own spin on a catchy, familiar tune:
Did you spot the secret crabs littered around the island? There's one hidden in almost every shot. How many can you find? Let us know on our Discord!
New Release Date!
And now for the release date reveal, get your calendar marking pen ready and peep the announcement trailer below:
Time on Frog Island will release on July 12th for PC and all major consoles! Not only that - we're very excited to also have ToFI available as...
Physical Copies!
For the collectors amongst us, Time on Frog Island will also be available in physical editions for your favourite console! You might be able to find it in your local game shops but you can also preorder with our partners at Signature Edition games here!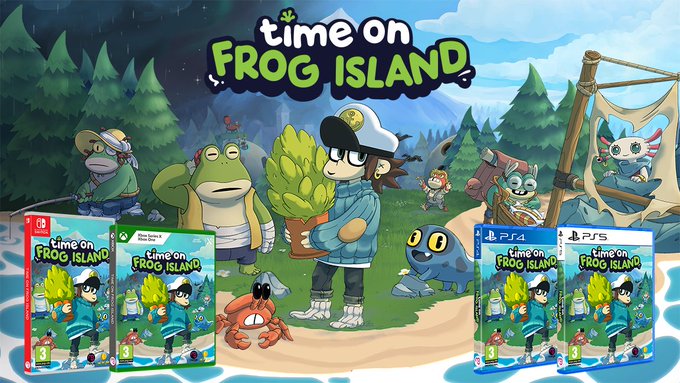 Same Prologue!
For a limited time only as of this writing, we have not yet updated the title screen to Time on Frog Island in the Prologue on Steam! Invest in yourself and play the free Prologue now if you haven't already. Once it's updated, you'll be able to tell everyone "I played it when it was still called Trading Time!" and acrue a couple shiny hipster points! If you're reading this after we've updated it, then sadly you're too late! But for real we would still love it if you checked it out and also leave a review...
Not long left!
Phew, big update! It's exciting times for us over at Half Past Yellow and we can't wait to have you all play our game! If you'd like to keep a closer eye on what we're up to or just say "Hi!", come join us and other fans over on our Discord! We're almost at 500 members and would love to see your best frog interpretive dance over on the #Fan-Art channel!
---
---